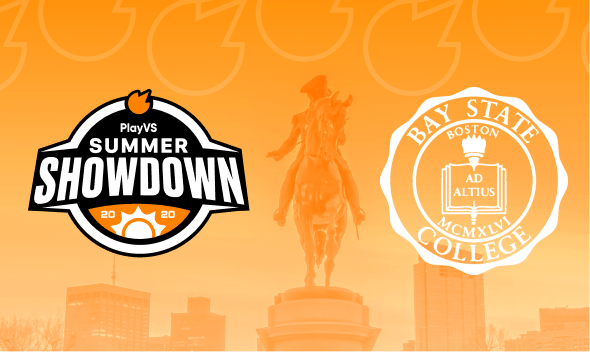 PlayVS Summer Showdown Champs Bay State College Talk Team's Formation, Pursuit Of Excellence
These Streaking Esports Athletes Are Getting Noticed. They Believe Now's Their Time.
Hummel had previously connected with undergraduate Connor Simeone in-game playing Fortnite, and while he might've been the IGL at the time, Hummel saw his esports talent being superseded by the young gun on the block. 

"You know what," he figured, "If Connor enrolled into Bay State he could get a degree. And there are hundreds of thousands of dollars in prize money if we start a proper esports team." 

That's when they started getting organized.

So they began a recruitment process that received an overwhelming number of applicants – from ineligible 12 year-olds to promising locals and gamers from around the world. Cearly, Hummel was onto something.

For his part, Simeone talked friend Nathaniel Salyer into transferring from a community college so that they could form a trios team and join our PlayVS Fortnite competition.

"With regular sports," Salyer said, "I was always dedicated and very competitive. So when Connor started pitching esports and the prize pools, I came in with the mindset of marketing myself and getting my name out there. You're not competing just for fun, you're actually competing for money, so I use a competitive mindset [like in playing sports]." 

With everyone on the same page and looking towards their ultimate goal, Coach Hummel set out to round out the program. Due to covid-19, Bay State's esports athletes wouldn't be able to use the lab as a practice facility. But with classes going fully remote for Fall, it presented a unique opportunity for recruitment and outreach. 

"We were able to offer a certain amount in scholarships for online players," Hummel said. "I was able to bring around ten new students who'll be grandfathered into the online program [including] international students. We recruited a League of Legends athlete from Canada who typically wouldn't have been able to afford school, but with the scholarship and us going remote, it worked out."

Hummel's approach to regularly scheduled practice and reviewing his players' in-game skill improvement and communications paid dividends when the team quickly began to gel. And as they racked up eliminations and Victory Royales one after another en route to victory at Summer Showdown, one of his tools in the recruitment process – to pitch the kids on an opportunity to win cash, start an esports career – was completely validated.

"As they were coming in, I coached them on growing a social media presence and getting their calling," Hummel said. "And I mean, Connor during the finals had about 200 or 300 people watching him. And if he can pull those numbers weekly, that presents potential for partnerships and a possible new career." 

Known as 'Dictator Connor' online, Mr. Simeone relished the opportunity to beat down unequal opponents throughout the tournament – and sometimes, even toyed with them in the matches. If you asked him, taking some time away from running pro Discord servers and swinging stocks on the NASDAQ has become equal parts cathartic release and sojourn towards a future career.
"You know, this is a young sport," he said. "I'm 21 now and trying to go as far as I can before having to throw it in, but definitely want my life to revolve around esports – whether that's me working with an organization who runs them, or changing the scene through a management position."

And, he hopes, winning the finals of PlayVS Summer Showdown is just the beginning. Hummel's team is quickly jockeying toward a top spot in their Fall season's regional standings. They've approached matches like NCAA Champions returning for another trophy, teaching new recruits about the culture along the way. And since Bay State College doesn't have a football or basketball team this is their chance at a playing field to shine on.

Their success is concurrent with collegiate esports reaching new heights, and the team wants to cement its status as a standout program that other schools can model after. On top of making bank and earning a bit of clout online, they figure there's an opportunity to earn endorsements or job offers on the path to graduation.

"I think this is just the beginning of what the future of college esports holds," said Salyer, "because it's going to become bigger, and esports will be respected as a competitive sport."