With a week off from esports action and Thanksgiving days away, we're about to climb atop the 2019 diving board and dive head-first into the holiday season. The holidays can mean different things to different people -- not all of them good. But, as ever, whether we look forward to the chaos of the last six weeks of the year or we dread them, we all cope and celebrate the same way.
We post.
Here are some of the highlights of the past few weeks among the extended PlayVS universe.
4 Match Sweep + New Keys
Twitter: @BearCreekHS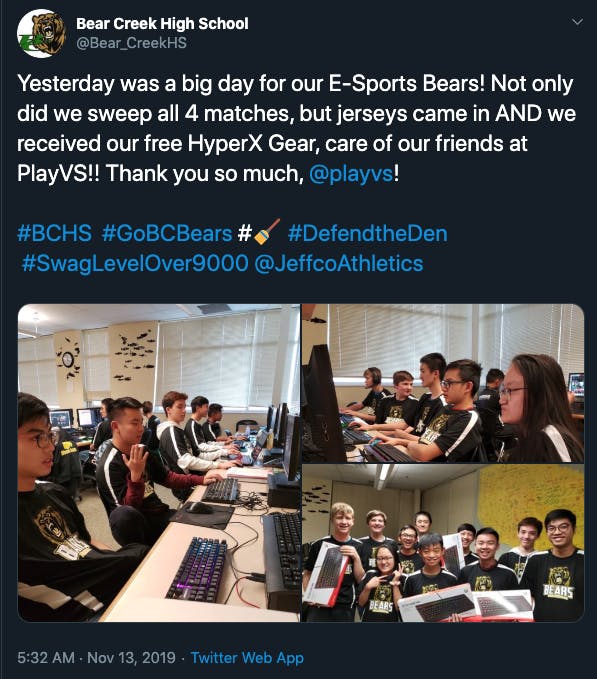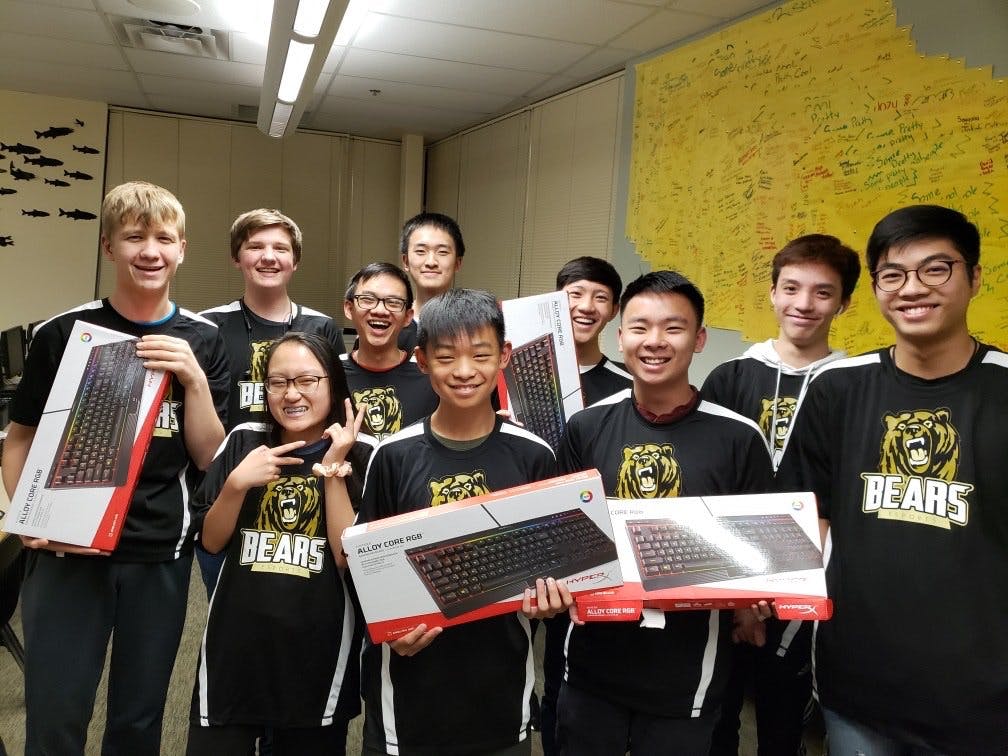 Bear Creek took full advantage of our preseason offer and look what happened! They signed up a coach and look at those fresh keys. The audible noise they make doesn't make your support game stronger. But, damn if it doesn't feel like it. Plus, they just sound real nice. Enjoy the gear. And congrats on the win!
No Losses Ever
Twitter: @JustinTolbert_
Speaking of nice lookin' keys, the Baker High Hornets remained locked in after a clean sweep of their week 3 League of Legends matches. Coach Justin Tolbert had some nice things to say about esports you can read on our homepage. He's an OG coach from forever ago (last year) who knows his way around the rift. Heed his words, kids!
El Camino Real STAND UP
Twitter: @ecrathletics
Southern California making themselves known at El Camino Real of Woodland Hills, CA with some piping-hot Rocket League action. We're excited to see esports touch down in California and we can't wait to expand next season.
Headset & Mic Eagle
Twitter: @SRHSEyrie @TechFrye
Student-made logos are always gonna get some shine from us. And, when you throw a gaming headset on on an animal, you're gonna get all of our praise. Anthropomorphizing an eagle into a gamer is the kind of chef kissing their fingers-level stuff we love to see. Big ups to Staunton River High Esports creating something new to represent their new esports program.
Sweep, Sweep, SWEEP
Twitter: @KRHS_Esports
They stream, too! Check 'em out → RIGHT HERE
Three League of Legends wins in one day deserves a solid GIF and Kettle Run High School came through on both fronts. Personally, we think if you're typing this quickly you're probably not playing League of Legends correctly. But, hey, you're the ones who went a combined 6-0. So, you keep doin' you, Kettle Run, cause it's obviously working.
CLIPS
Our tidy weekly highlight video program is still under construction. But, we promised clout and we're not one to shirk on responsibility. So, here are some of the impressive highlight submissions we received. And, if you want to be featured, simply tweet your highlight at us with #PlayVSPlays and we'll throw some shine in your direction!
Title: SMITE
School: Lumpkin County High School (GA)
Submitted by: @alrightyJimbo
Naaman Forest High School Week 2
Title: League of Legends & Rocket League
School: Naaman Forest High School (TX)
Submitted by @LesaAiTeach
Meet Pablo, The LA Rocket League Legend
Title: Rocket League
School: Bright Star Secondary Charter Academy (CA)
Submitted by @PGleon12
Keep the posts and highlight submissions (#PlayVSPlays) coming. We love to see 'em. The arrival of the holidays means the playoffs are just around the corner and we can't wait to see what teams come up with for the postseason!
So, until next time, never log off. Never stop posting.