Season Zero of our Collegiate Fortnite League was successful entirely because of our players and coaches. They signed up for a platform they'd probably never heard of, showed up in the preseason, and kept showing up every week. We appreciate their dedication and their talent, so we wanted to get to know some of our community on a more personal level.
Next up, Max Bradshaw of Indiana University, better known as 'Burrit0'.
How did you get your start in gaming?
I got my start playing Star Wars Battlefront 2 on the original Xbox and was hooked on gaming. After that it was Call of Duty and any of your traditional sport games like FIFA or 2K. Finally, Fortnite came out and then that's been pretty much it ever since.
Are you playing any Warzone?
You know, I have. Which is tough because it is really fun, but I'm not trying to become washed in Fortnite.
Is it really tough to swap between two titles within the same genre?
At the start, yes. But then you quickly get more used to the games. It is difficult specifically surrounding these two games because they both have completely different mechanics. Of course, Fortnite has a building element, which is super unique. It is also played in third person. Unlike Warzone and Apex Legends, which are both first person.
Did you play traditional sports growing up and in high school?
So I started out like every Indiana kid, playing basketball. I played throughout middle school, but not high school. When high school came around, I actually started playing Ultimate Frisbee. I ended up getting pretty good at it and, it was either my sophomore or junior year, I got invited to try out for Team USA. So I went to those tryouts in San Francisco, sprained my ankle on the very first day and was so pissed. That's besides the point though, my main sport throughout high school was ultimate.
Do you still play at Indiana?
Yeah, I'll go to tournaments with the IU team every so often. But, when I sprained my ankle it was a pretty legit sprain and I remember coming back to Indiana injured right around when Fortnite was starting to take off. So that really sparked the interest in the game and lead me to where I am now.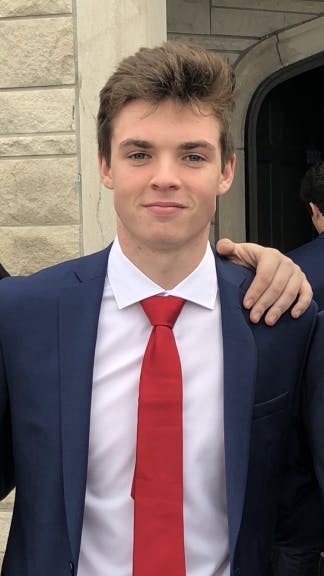 Suited up!
Would you say that over the course of your gaming career, Fortnite is your favorite game?
I guess so. I definitely spent the most hours playing it and it is probably my favorite just because of the building and editing aspect. I feel like everyone that is super involved with Fortnite, sort of fell in love with that part of the game. I also like the awesome prize pools and community events that have been put on.
What is your take on the box fighting meta and how do you navigate when things change so drastically?
The meta is definitely box fighting as a broad statement, but definitely a big part of navigating any change in the game is adapting your own play style to that meta. Meaning you have to play to your strengths and weaknesses within a large context of the meta. For example, I'm a controller player, which usually means that if I'm right in someone's face with an SMG I'm going to win the fight. So I need to be putting myself in those situations where it comes down to a simple gunfight every time, whereas my duo is more of a mechanically skilled player. So, I'm really just trying to keep it unique and play my own style within the meta.
How's your Fortnite season going so far?
It could be better, but we're getting to where we want to be. I play on the controller and Epic just took out legacy aim assist, which is what top players and I used. I've just been on vacation, so I haven't really had the chance to adjust. It completely changes my sensitivity and the way aim-assist works. So I have to focus on adjusting to that.
Have you considered using this as a chance to make the change to Hybrid?
[Ed. Note: For those who don't know, "Hybrid" refers to when a player uses both a controller and keyboard/mouse within the same game of Fortnite as a way to leverage the strengths of both. - Billy]
I've been thinking about that a lot and nobody has told me I can't beam someone with a controller and then switch to the keys and push. [laughs] There's actually a pro player named Epic Whale and he recently just full time switched to controller. But prior, he was playing hybrid and so I've been expanding with that earlier today actually.
How did you meet your duo and how are things going with him?
So, there's a gaming Discord for IU. The problem was, there weren't many people on that discord that played Fortnite, so I messaged in regularly hoping to find someone for a duos partner. I also checked the IU gaming reddit page to see if anyone was playing there and nobody was. Finally, Nomxs transferred to IU in the second semester of this year. One day, I had a DM on a Discord and that was that. We need a little bit more practice given we've only played two weeks, but from what I can tell it is going real well. He's a super nice guy and especially in the competitive community, there are so many toxic people out there. When we die, we'll brainstorm what happened and see what we can do better next time. It is all healthy, good communication and I believe we have potential in the league having only played a few times.
Do you ever get nervous when you play?
At the very beginning of my career playing competitively, I would say so. During solo cash cups and stuff, I'd be sweating with the controller in my hands and definitely be a little bit nervous. But now I feel like having so many scrims under my belt that and I've played so many tournaments, I don't really get as nervous anymore.
The thing about nerves is you don't even get a chance in these end games to overthink something or be nervous for even a second. It's pretty much just sensory overload. You've got five people running above you, below you and beside you. So you just try not to think about it so much.
Who is someone you admire the most in the professional Fortnite community?
So in the Fortnite community you'll see a lot of the time that people who were super dominant at the beginning of the game have fallen off or become washed. I think Liquid Chap is a great example of a more mechanically skilled player who has those big brain plays and loves adapting to the current meta. That's who I admire the most. 
Who is one person you'd like to shoutout that helped you get to where you are today?
Blake Fitz. One of my neighbors and a lifelong friend. When I first started playing competitive Fortnite, he was the guy I played with every day on console and in the World Cup, just things like that. He is a really supportive guy.
As always, we appreciate players taking the time to talk with us about their experiences in life and esports. Keep an eye on this space for more spotlights on the people who make PlayVS special.