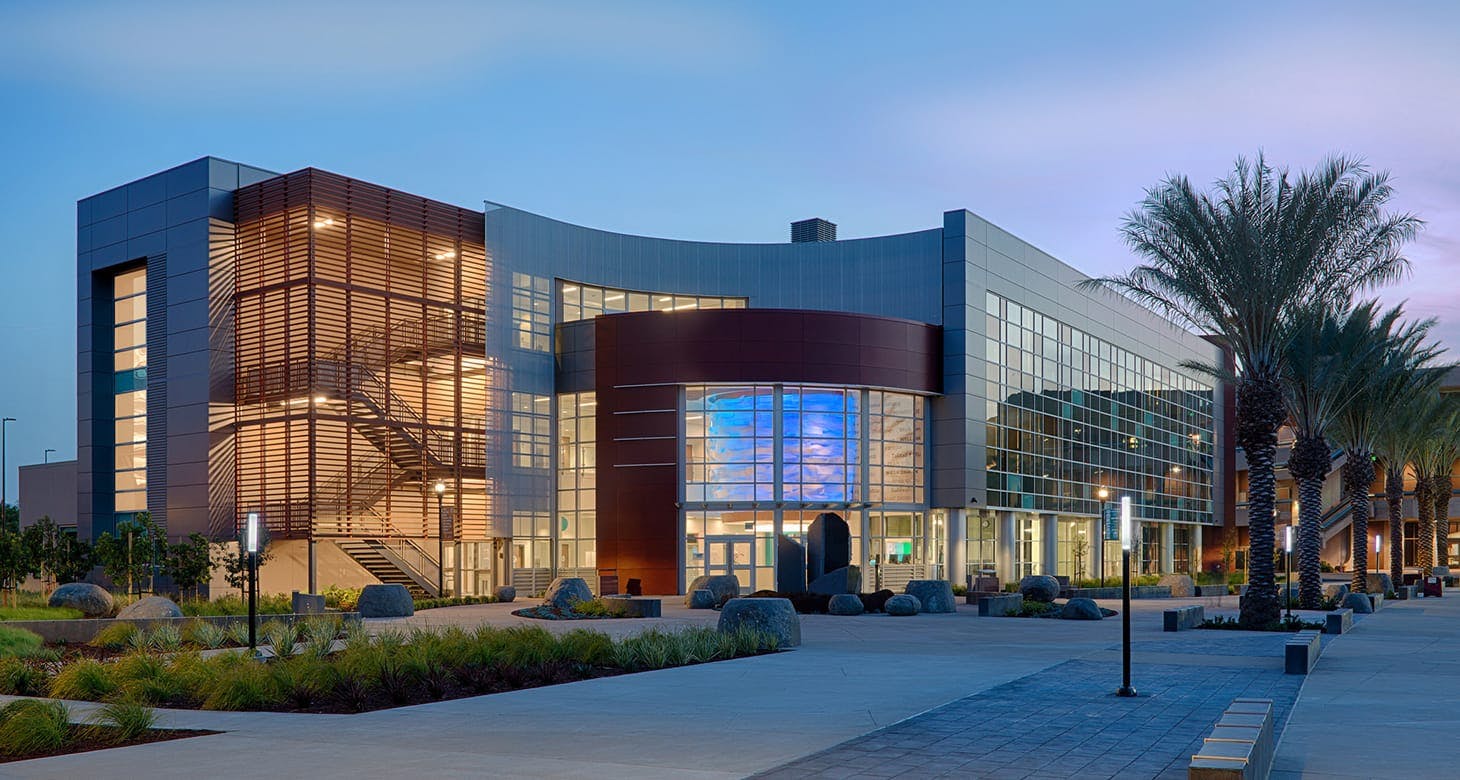 Coach Corner: Johnny Phung
Coach Phung took some time to tell us how he built and funded an esports club from scratch.
Season Zero of our Collegiate Fortnite League has been exciting and successful entirely because of the players and their coaches. These people signed up to a platform they'd probably never heard of, showed up in the preseason, and keep showing up every week.

We wanted to get to know some of the people who come together every Wednesday — and every other day — to make our league special. This week, we sat down with coach Johnny Phung from Los Angeles Mission College to chat about his esports journey and his thriving program.
What is your role at LAMC and with the esports club?
I work in IT as the online multimedia specialist and I am the staff advisor for the gaming club.
How did you find this love for computers and for esports?
Yeah. I like to think that gaming is really what got me into computers in the first place. Just like every kid I would play video games with my friends and that was always a great time. But then it got to the point where games would no longer run on my computer and I didn't know why. So I had to make my computer better to be able to game. That's what got me into building computers and into the IT field.
And how did the gaming club at LAMC initially get its start?
I started the club out by just taking some discarded computers and then upgrading them with graphics cards. At that point, I just took them out to the cafeteria — where I know a lot of people hang out — and set them up to run Overwatch.
Who paid for the cost of this initial set up?
I did. I put my own funds into upgrading the graphics cards and bought six copies of Overwatch because I was trying to build a team. Students who play would walk by and say, 'oh snap, it's Overwatch' and then they'll just jump on and start playing. So, after a couple of weeks we had some regulars coming in to play. Eventually, I hit those people up and asked if they wanted to start a gaming club.
Did you have a goal in mind for your teams or were you just trying to see where it might go?
When I started planning out the club I already had a flagship event in mind. I went to an Overwatch match in Burbank at the arena. And I wanted to recreate that. So, naturally, with it being on Los Angeles Mission College grounds it would be one college versus another college. The college we naturally feed into is CSU Northridge. I later found out that they have a pretty well established esports club and an Overwatch team. So, I just physically showed up to one of their meetings. I drove there. In the meeting, I proposed the exhibition match as Mission College versus CSUN in Overwatch. CSUN was totally interested and at the time I didn't even have a team. Like I didn't even have a club or anything. But what we did have was a purpose or cause to rally behind.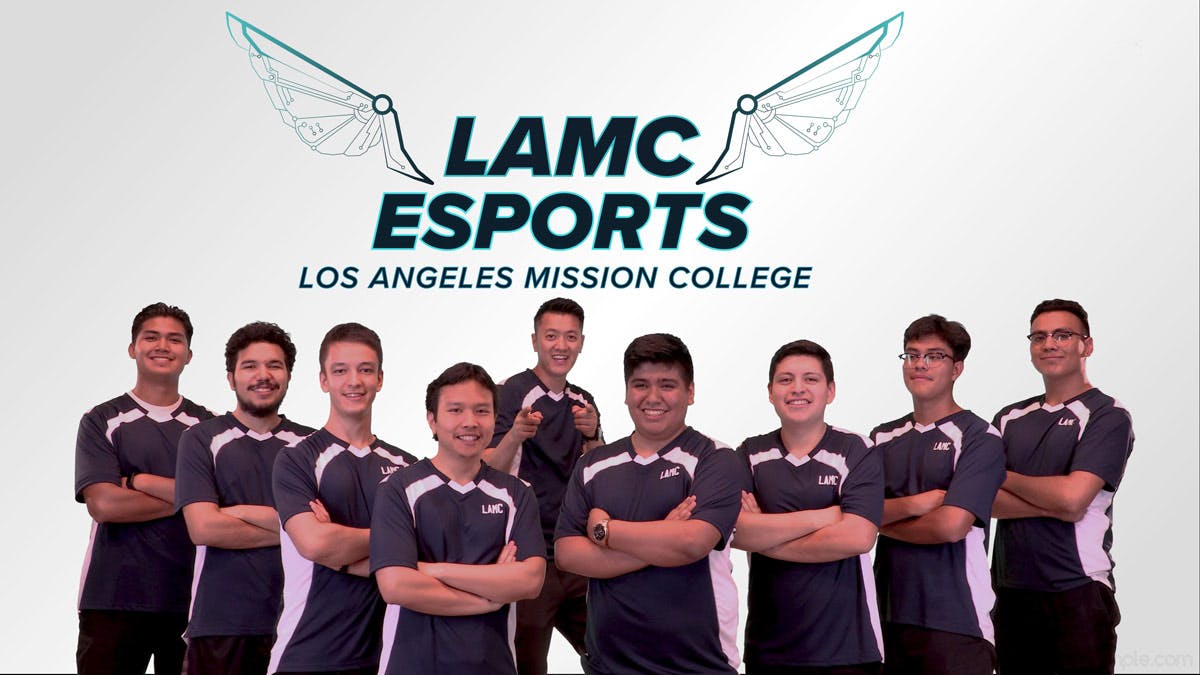 The squad.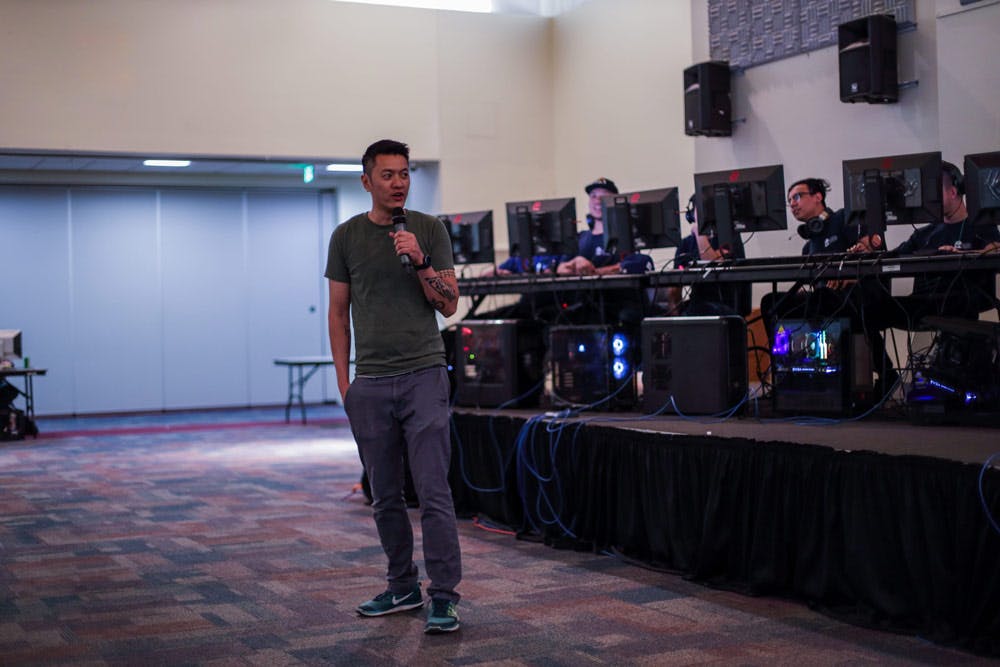 Johnny on the mic.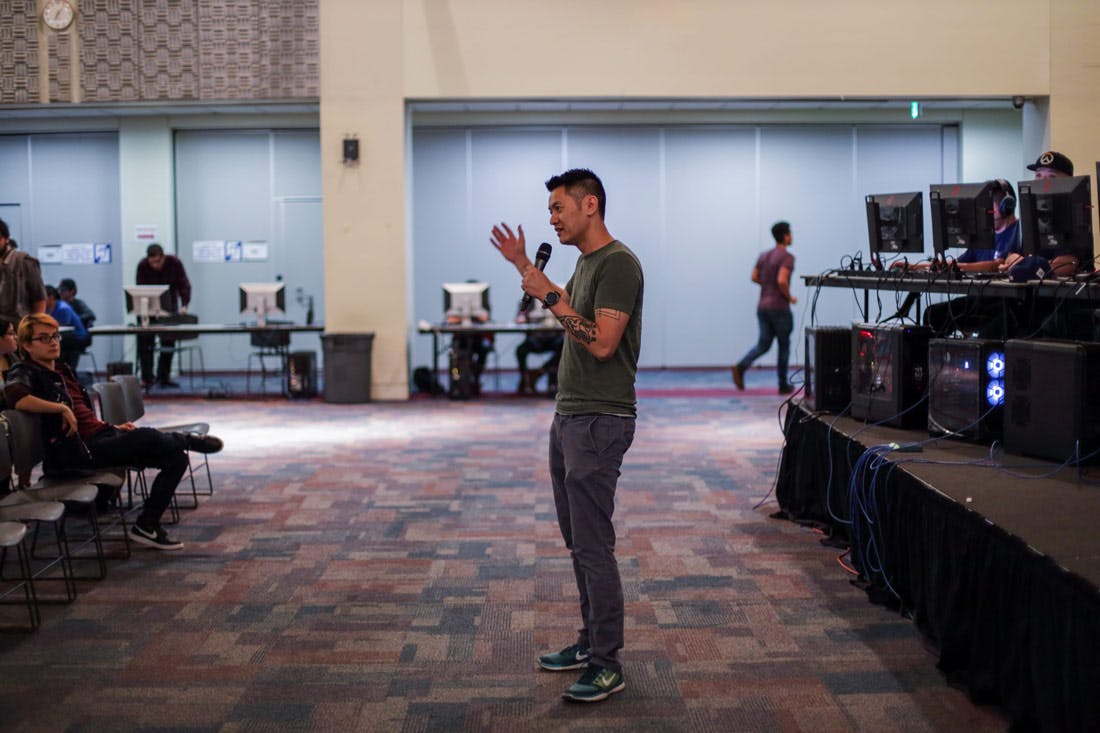 Talking the talk.
Was the administration on board from the start or did it require you to lobby some?
At the beginning they knew about esports by seeing it on ESPN being aware of the established teams and organizations. The easiest selling point was the fact that it was not just for players, but that it was becoming entertainment for people to watch. And if you tie that together with content creation and the business aspects there is a lot of growth potential for those facilitating the game as well. The school loves to support students and the things they are extremely passionate about.
What are some of the coolest things you get to see/experience on a day-to-day basis as the coach for your school's esport team?
Definitely, the comradery and the teamwork. It's really amazing that these games are built for you to listen in to everybody talking to one another. There is no better feeling than watching your team call out things, come up with a plan and execute it right on the spot.
How do you get parents of players or people without much gaming experience to be interested and watch your teams compete?
Honestly, I would recommend they first try and play one of the games. You very well may suck at it, but when you know what you're unable to do because of a lack of skill it makes seeing someone who can do it, inherently entertaining. Think about basketball for a second, everyone who enjoys playing basketball loves to live vicariously through the player who can slam dunk.
How is the club doing today?
Outside of the limitations from the virus, things are going really well. We had our big flagship event in January, which helped us pick up some sponsors for some gaming chairs. We're also put in a proposal for a bigger space and are now waiting for that to be built, with the obvious delays, because we have outgrown our initial Bungalow space.
You mentioned the virus… has that really put a stop to your clubs operations and growth?
We're still functioning online. We did a collaboration with Orange Coast College, UCLA and CSU long beach where we streamed all four esport clubs playing TFT against one another. So that type of thing still exists in a world where we can't meet up in person. You know, we just meet up online and we stream that.
So, did everyone have all the computers necessary to run the games and continue playing?
Actually, I sent home two of our club members home with computers from our arena. These two members were actually the ones who are currently competing in the Fortnite season with PlayVS. It was a no brainer to allow them that given they had already committed to an entire season and because all of the computers in our arena are my own personal computers, I am allowed to do just that.
Finally, is there anybody you'd like to shoutout?
First and foremost would definitely be my immediate supervisor, Curtis Stage. When we were sitting down with all of the faculty, planning out this semester's events for the building, everyone would make their pitch for cool events and at one point he just turned to me and said, "All right, so Johnny, you doing a gaming thing?" I was like, uh, sure. And that's really what got me to do that flagship event with CSUN, start the club, and really execute on what we have today. So he really opened the first couple doors and set the wheels in motion. Beyond Curtis there was the VP of Admin Services and the Facilities Foreman. There were a lot of pivotal moments and people who helped facilitate this.
Keep an eye on this space for more conversations with the people who make our Collegiate Fortnite League special.